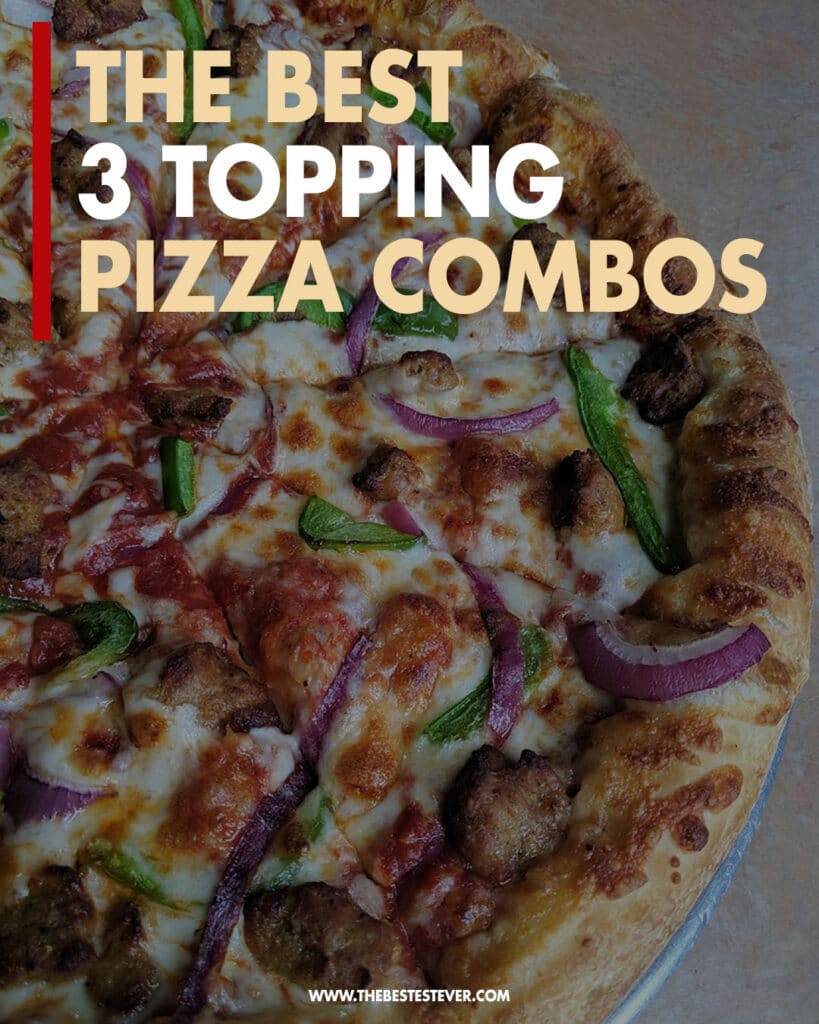 Want to try something new and exciting with your pizza toppings?
Well you are definitely in the right place. Today, we are going to show you the best 3 topping pizza combinations that will have your taste buds thanking you.
You will find out what makes a good 3 topping pizza and some of the best combinations to try.
If you're ready for a delicious adventure, then let's get started!
What Makes a Good 3 Topping Pizza?
A good 3 topping pizza is one that has a variety of flavors and textures. You want to make sure that the toppings complement each other and that there is a good balance of ingredients. The best 3 topping options are ones that have a mix of meat, vegetables, and cheese. This combination provides the perfect blend of flavors and textures.
---
---
10 Best 3 Topping Pizza Combinations & Ideas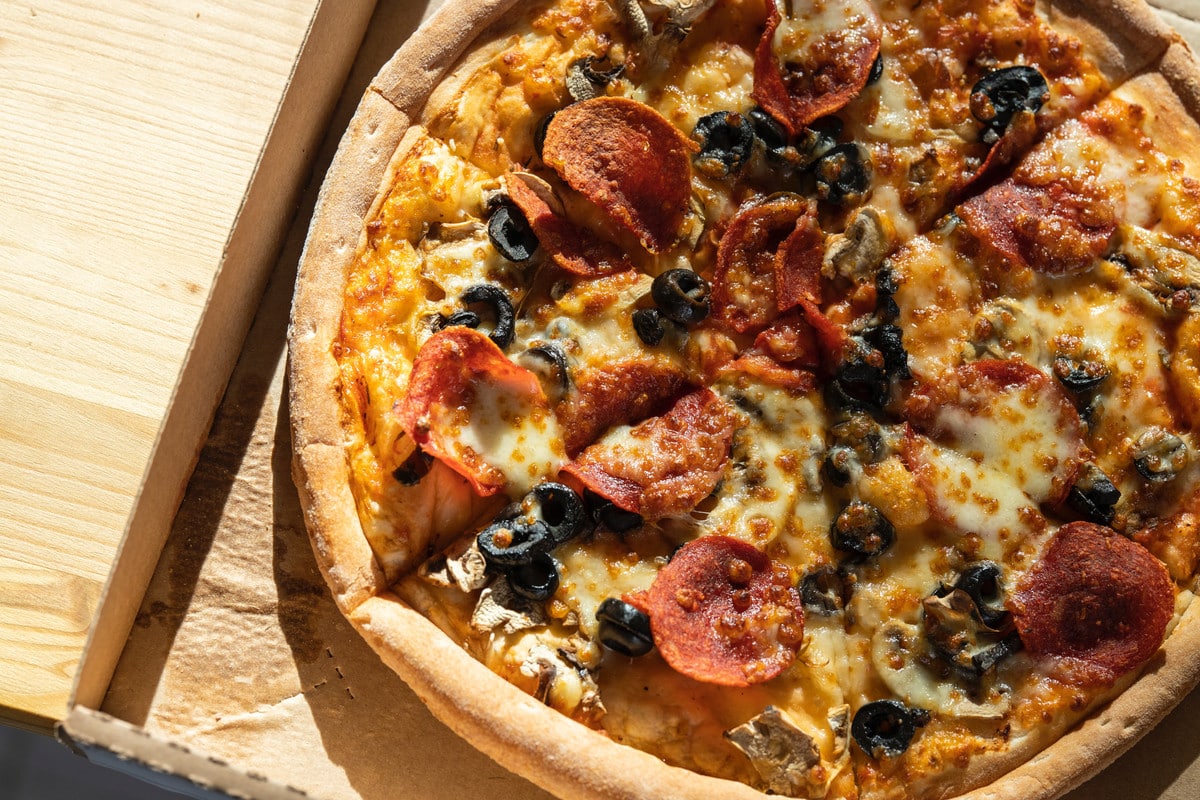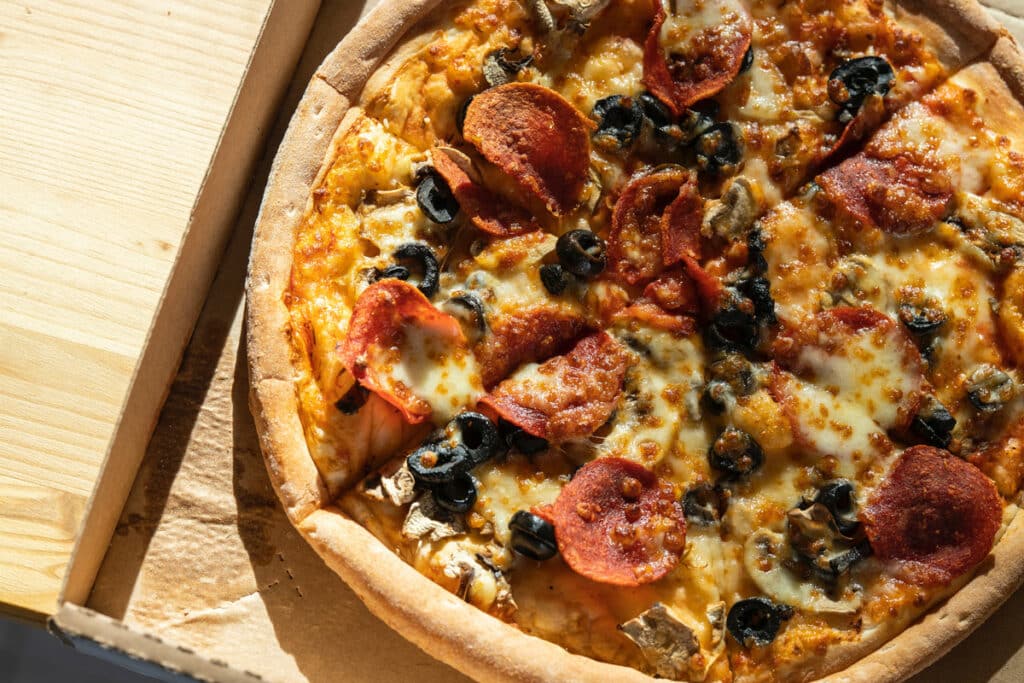 If you are going to try a new pizza topping combination, the most important thing you need to know is you need that beautiful balance of flavors and textures.
We've put together a list of some of our favorite 3 topping pizza combinations below. You can try these at any of your favorite pizza joints from Domino's, Pizza Hut, Papa John's and Little Caesar's.
So whether you are looking for a classic combo or something a little more adventurous, we've got you covered.
---
---
Here's Our Top 10 Meat Combo List:
Ham, pineapple, jalapeño
Pepperoni, sausage, and mushrooms
Mushroom, onion, bacon
pepperoni, black olive, bell pepper
Ham, pineapple, and bacon
BBQ chicken, onions, and green peppers
Pepperoni, chicken, and bacon
Sausage, onion, mushroom
Italian sausage, peppers, and onions
Bacon, chicken, and ranch dressing
Here's our Top 10 Veggie Combo List:
Pineapple, jalapeño, black olive
Black olive, onion, green pepper
Green Olives, Feta, Banana Peppers
Pineapple mushroom jalapeño
Onion, olive, banana peppers
Pineapple, banana peppers and feta
Black olives, garlic, extra cheese!
Spinach, garlic, mushrooms
Roasted red peppers, onions, mushrooms
Extra cheese, mushrooms, olives
If you want some more recommendations, you can check out this Twitter thread or Reddit post. They both have some great ideas that you can try out.
Tips For Your Unique Pizza Combinations
When it comes to 3 topping pizza combinations, there are endless possibilities. You should note that not all flavor combinations are created equal. Some flavors don't work well together and that can be the difference between a pizza that is meh and one that is downright delicious.
A few things to keep in mind when choosing your toppings:
Add Some Cheese
The type of cheese you use can make a big difference. A strong flavored cheese like blue cheese or feta can have a big impact on the taste of your pizza.
Make Sure the Toppings Work With Each Other
If you are using 3 toppings that are all very strong flavored, it can be overwhelming. Try to balance out the flavors by using a mix of strong and mild toppings.
Switch Your Sauce
The sauce you use can also have a big impact on the flavor of your pizza. A sweeter sauce like BBQ or honey mustard can really change the taste of your pizza.
Get Creative With Your Pizza Toppings
At the end of the day, there are no rules when it comes to pizza toppings and you won't know what you like till you try it. So don't be afraid to get creative with your pizza toppings. Try new combinations the next time you order Pizza Hut, Domino's or Papa John's and find the flavors that you love.
You could try a recommendation from our list and realize, "hey, this would taste better if I added mushrooms or swapped out the sausage for pepperoni."
The best way to find your perfect 3 topping pizza is to experiment and have fun with it!
Conclusion
There you have it! These are the best 3 topping pizza combinations that you need to try.
If you found these recommendations helpful, once you've tried some of these combinations, be sure to come back and let us know how it went! We would love to hear from you.
Drop the combination you think we should've included in the comments section below!
Have fun and happy pizza eating!