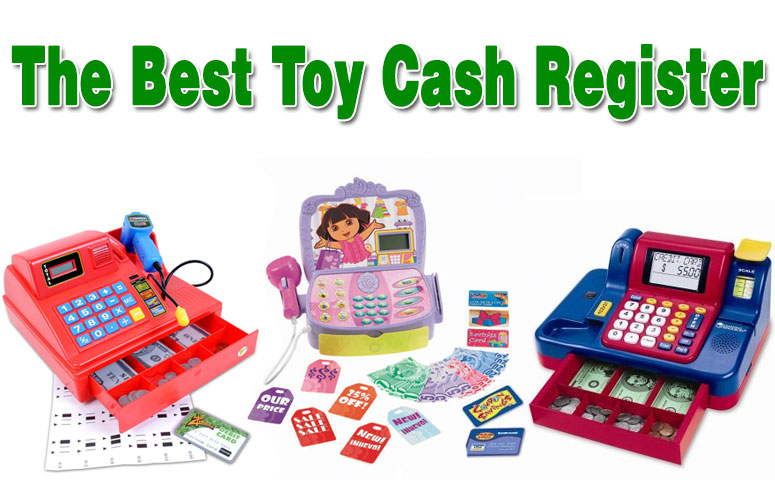 Toy cash registers are a great toy that can be used by kids to not only make-believe and play, but they can also learn basic principles of math. There are a lot of register available for kids and honestly, not all of them are made equal. Below,  I am going to highlight the best toy cash register that are available right now.
1. Learning Resources Teaching Cash Register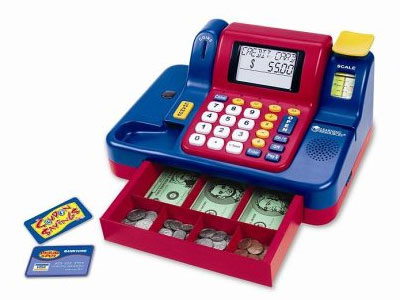 Out of all the toy registers around, the Learning Resources is the one to have. This one does it all as it features a big LCD screen, as well as a working scale, currency draw, a working scanner for coupons and credit cards. There are also interactive games, that will allow the child to learn basic math skills. The buttons are big and there are enough lights and sounds on it to grab the child's imagination. This is well worth the money and you will not regret your purchase.
Transactions results in lights, sounds and voice messages.
The drawer can hold play money as well as real money
Comes with  built-in scanner, scale and coin slot
Great learning tool as it helps them with their addition and subtraction. Comes with 4 learning games.
2. Learning Resources Pretend & Play Calculator Cash Register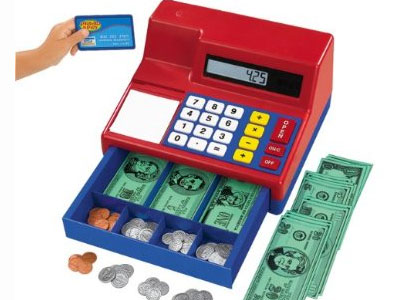 While this Learning Resources cash register does not come with a scanner, it is still a pretty fun learning toy for your child to have. They will enjoy putting in the money in the draw, as well as pretending to ring up whatever products they may have. As the child gets older, it is a great teaching tool and it can also be used as their own piggy bank.
Cash register with LCD display that is also solar powered
Extra-large buttons for kids to enjoy, as well as a nice storage draw
Comes with 30 play bills, 40 plastic coins and a pretend credit card
Recommended for ages 3 to 8
3. Summit Junior Talking Cash Register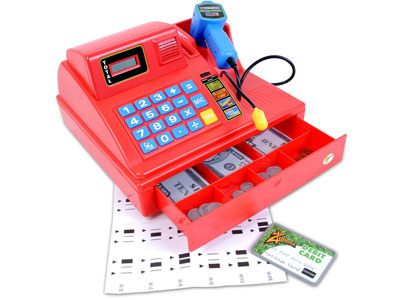 Parents, your kids are going to love this cash register, simply because it talks back to them. Whatever you enter on the keypad, the cash register will say it. It comes with a scanner that it will read off the barcode stickers (included in the set). There is also a loudspeaker microphone that they can use for a price check.  It also comes with a credit card and play money.
Talking keypad
Real hand-held scanner
Barcode stickers
Digital display
Loud speaker microphone
Recommended for ages 4 to 8
4. Dora The Explorer Shopping Adventure Cash Register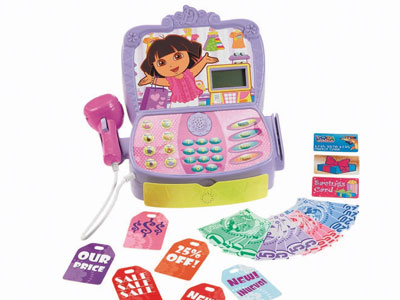 This cash register is an excellent option for your child if they love Dora the Explorer, but it is also very functional and has a ton of interesting and exciting features. It comes with a catalogue, where the child can use the included scanner to hear the different prices.  The register has a LCD screen that features a working calculator and can speak over 150 words and phrases.
Flip through the Dora catalogue; ring up the prices in the catalogue to hear how much they cost.
Squeeze the trigger on the scanner to hear prices
Features a LCD screen and a working calculator
Comes with play money
Recommended ages 3 to 7
5. Just Like Home Cash Register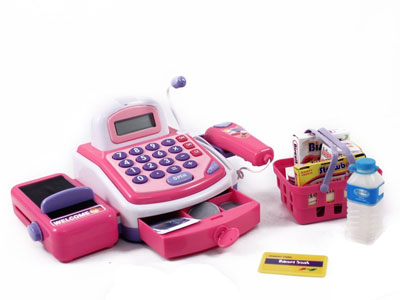 Your little one can feel like they are just inside the grocery store with their very own toy cash register. This one has a more realistic design and comes with a working calculator, as well as a pop-open draw for money. There is also a hand-held scanner that lights up and when you swipe the credit card, a sound is made. There is a miniature conveyor belt
that you can place the miniature groceries that come with the toy. There is also a neat little intercom system to announce price checks or clean ups.
Great learning tool to have to teach kids the basics of math.
Comes with a scanner, credit card slot and play money.
Has its own groceries
Recommended ages 3 to 8