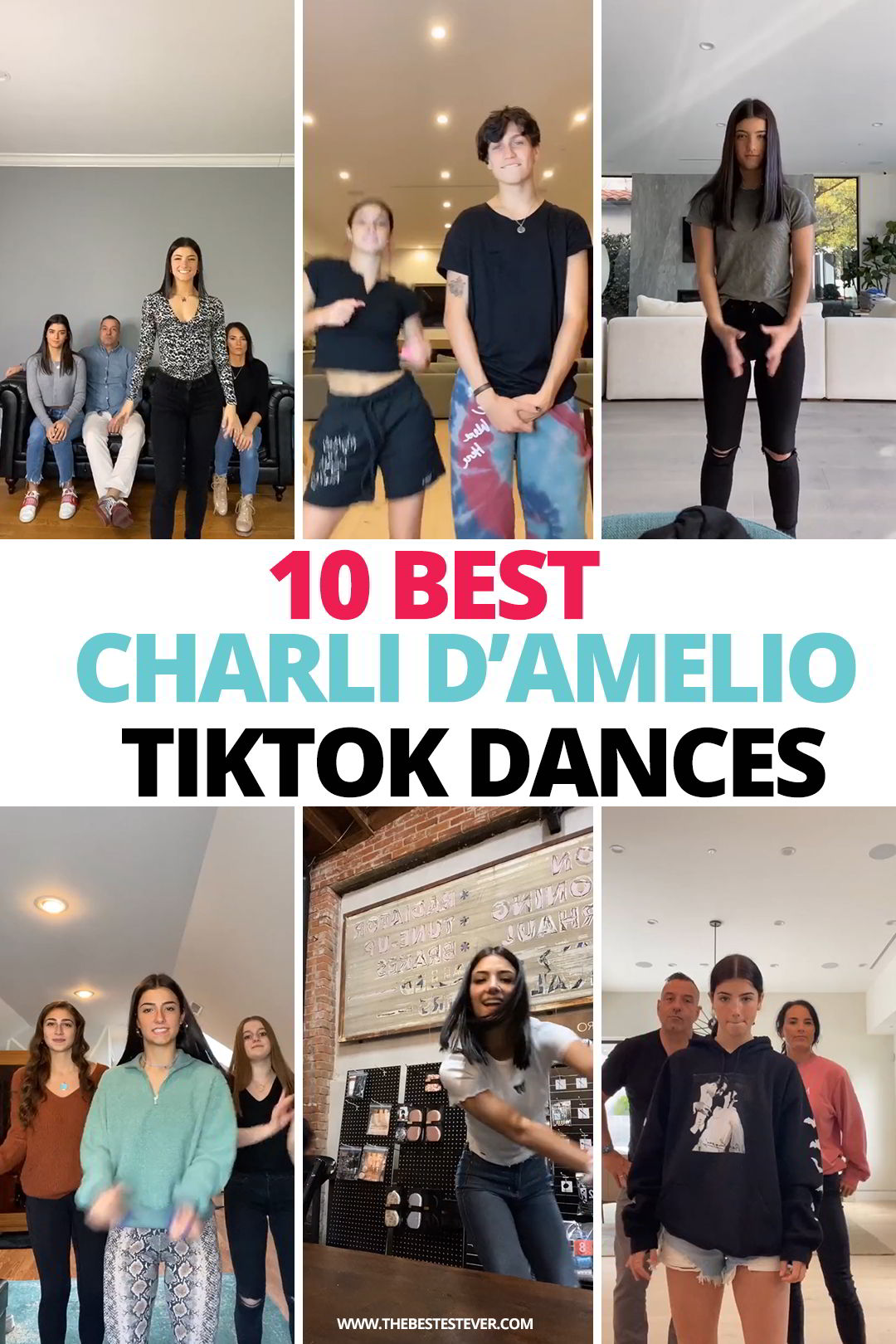 Charli D'Amelio is TikTok's biggest star. With billions of video views and likes, this viral phenomenon is by far the most popular teen on the internet.
Everyone loves Charli! Her bubbly personality and knack for making fun videos, lets her stand out among all the million other kids who use the social media app.
We decided to do a quick roundup of the 10 Most Popular Charli D'Amelio TikTok videos. By watching a couple, it is easy to see why she is such a social media megastar.
So keep scrolling to see a couple of the videos that have made her so popular.
Who is Charli D'amelio & Why Is She So Popular?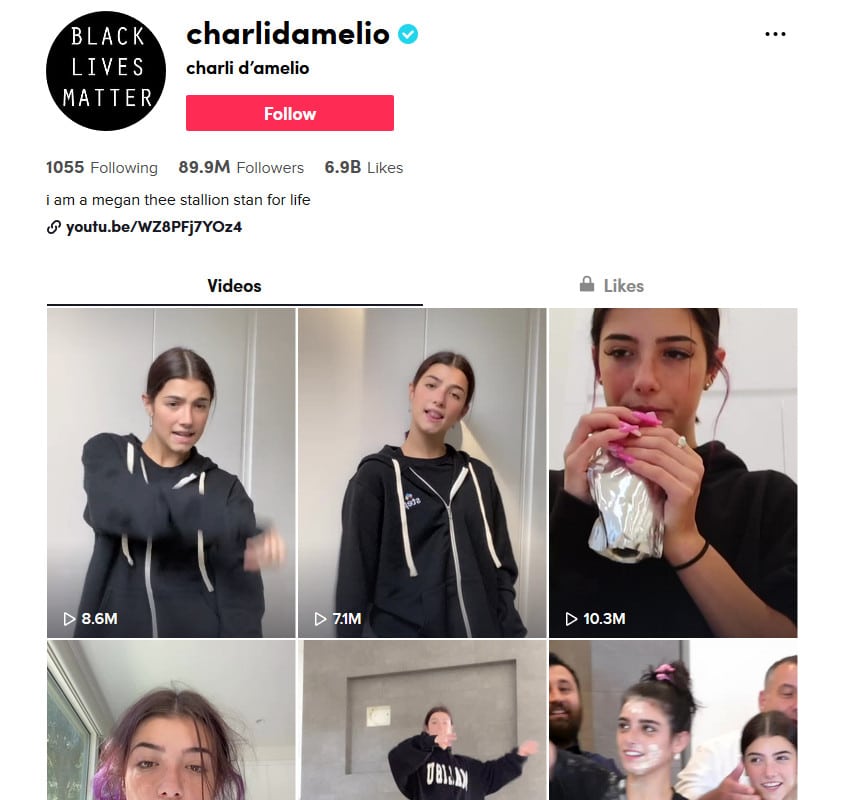 Charli Grace D'Amelio was born on May 1, 2004 in Norwalk, Connecticut. She was a competitive dancer for over 10 years , before her social media career exploded.
In late 2019, Charli started posting videos on the social media app, TikTok. Her fun lip-synced and dance videos caused her popularity to explode, with Charli amassing millions of video views and followers in a few months after posting her first video.
This sudden increase in popularity eventually translated to her being the most popular person on TikTok.
In an interview with NBC News, Charli shared her thoughts about her new found fame.
"It's kind of crazy to think about it. I never thought that this would happen. Like, everyone thinks, 'Oh, that's so cool,' but when it's actually happening — it's crazy to think about, 'Why do people want to follow me? What am I doing different than everyone?' It's just crazy,"
Since she's joined TikTok, Charli has done a couple of sponsorship deals with companies including Morphe Cosmetics, Hollister and Dunkin Donuts.
She also appeared in a Super Bowl 2020 commercial for Sabra Hummus.
Charli D'amelio's 10 Most Popular Tik Tok Dance Videos of all Time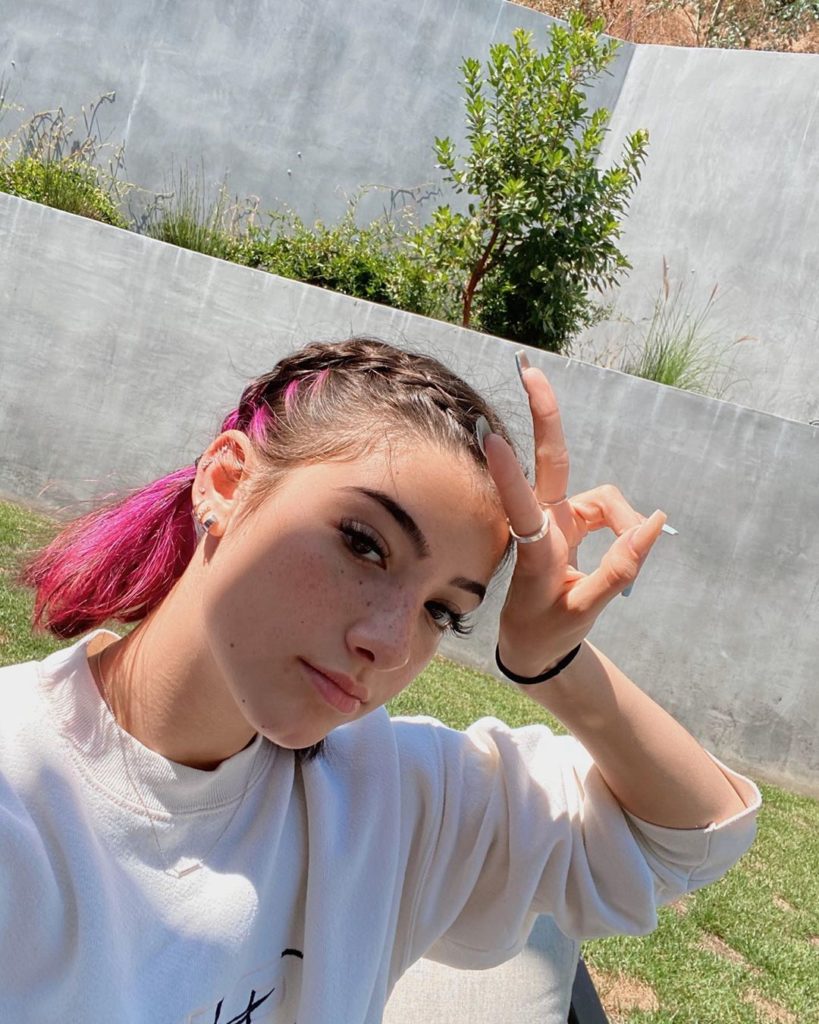 I've compiled a couple of the most viral and loved Charli D'Amelio TikToks around.
While this is not every single one, as she has uploaded ALOT, these are some of the biggest based on a combination of likes and views.
So take a couple minutes and look at the biggest videos that she has uploaded to the site.
1. Jazzmeen – 20.2 Million Likes
A cute family mashup of the D'Amelio family, minus Dixie is one of Charli's most viewed and most liked videos.
With over 20 million likes, fans love the Jazzmeen (Original Sound) TikTok Dance Challenge that Charli does and her mom takes it to the next level with her own special sauce.
---
---
2. Take You Down Remix – 19.2 Million Likes
What happens when you mix the Chris Brown – Take You Down Remix with Charli D'Amelio? You get an epic high-energy video that her millions of followers could not get enough of.
She was putting in major work with this TikTok, so much that her mom did not approve of it at the end with the quick "knock it off slap"
---
---
3. Savage – 17.6 Million Likes
Charli is a huge Meg the Stallion fan, as she clearly states in her TikTok bio "i am a megan thee stallion stan for life".
It would be no surprise that one of her favorite songs from her favorite rapper is also one of her most popular videos.
With over a 100 million views and 17 million likes, Charli does justice to her Savage video. So much so, that her family is super-impressed by the moves the popular Tik Toker pulls off.
4. Hotel Room Service (15.7 Million Likes)
Short and adorable is what Charli serves up with dad, Marc D'amelio, in her Hotel Room Service video.
This cute video is loved by many of her followers, as it shows a cute interaction between Charli and her dad.
5. Not The Thermometer Slow Version – 15.7 Million Likes
Not The Thermometer Slow Version is another popular Charli D'Amelio TikTok dance video, racking up over 15 million likes since she posted it on August 5th, 2020.
What stands out in this video is her simple, yet satisfying footwork. Guaranteed that there are a couple kids out there who spent a couple minutes or hours trying to perfect this dance.
6. Cannibal – 14.2 Million Likes
While the 'First Couple of TikTok' no longer exists after their breakup in April, the cuteness of Chase Hudson aka Lil Huddy and Charli D'amelio is cemented forever in their Kesha – Cannibal Tik Tok video.
Part of the video's popularity is the fact that Lil Huddy was in the background, acting as the perfect hype-man to his one-time love.
7. Get Busy – 14 Million Likes
The popularity of Charli D'Amelio dancing to Sean Paul's – Get Busy, is undeniable. What makes it stand out is that Charli, in her own words, "decided to get dressed up today" and pull off some dope moves in the process.
Clad in a somewhat formal dress, she puts on a quick dancehall infused dance and nails every second of it, while looking glammed up and fabulous.
8. It Won't Stop – 13.4 Million Likes
With over 13 million likes, the popularity of this video has a lot to do with Charli and Chase showing that they're still friends by filming a TikTok together, even after their breakup in April.
The once couple filmed a cute video to "It Won't Stop" by Sevyn Streeter featuring Chris Brown and many were dumfounded, as they didn't expect the two to be making videos together again.
9. AhiChallenge – 12.3 Million Likes
Coming in at number is 9 is Ms. D'Amelio's take on the AhiChallenge.
Many of her followers commented that she wasn't enthusiastic about doing this particular challenge based on how she looked in the video, however, she was still able to pull it off effortlessly.
10. Sunday Best x Dont Start Now – 12.1 Million Likes
To celebrate reaching 29 million followers, Charli dropped a quick video to the Sunday Best x Dont Start Now mashup.
With over 12 million likes and 116 thousand comments, even influencer, James Charles had to comment that Charli was officially the "ceo of being famous".
Bonus: Lottery – 11.3 Million Likes
We had to throw in a bonus when it comes to Charli D'Amelio TikTok dance videos. The insanely popular Renegade dance, set to K Camp's – Lottery was one of the biggest things to hit the social media app in 2020.
Charli did a couple of versions throughout the year, but it was the one with a couple of friends that people really loved.
At over 11 million likes, her followers approved of her nailing the Renegade dance perfectly.