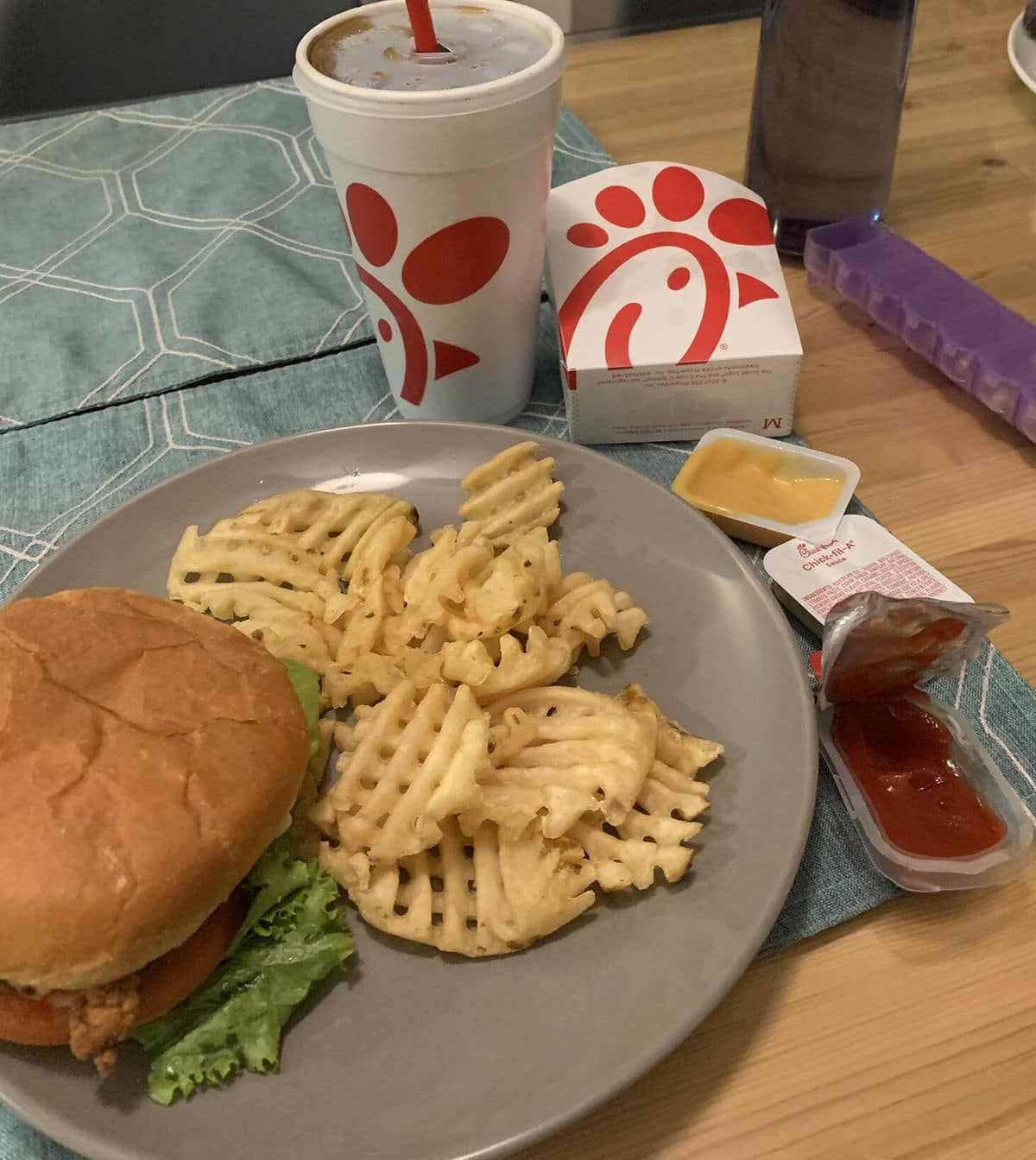 Want to know what is the Chick-fil-A number one?
If you keep on reading, you can find out menu items come with this popular combo. Plus, we take a look at the calorie and nutrition info, so you can know exactly how many calories you're consuming with the meal
So, what exactly is the #1 combo at Chick-fil-A? Let's find out.
What is a Number 1 at Chick-Fil-A?
A Number 1 at Chick-Fil-A is a classic and simple combination of three items:
A Chick-fil A sandwich or Chick-fil-A Deluxe Sandwich
Waffle fries
Drink.
Chick-fil A Sandwich: The chicken sandwich is made with a juicy and tender chicken breast, served on a toasted bun with two pickles.
Chick-fil A Deluxe: The Deluxe is a seasoned boneless chicken breast, served on a toasted buttery bun with pickles, lettuce, tomato slices, and cheese (American, Colby jack or Pepper Jack cheese). You can also have it with the healthier multigrain bun option.
---
---
Waffle Potato Fries: The waffle potato fries are crispy, golden and delicious, with a unique texture that sets them apart from regular fries.
Drink: can be any soft drink or iced tea of your choice.
How Much is a Number 1 At Chick-fil-A?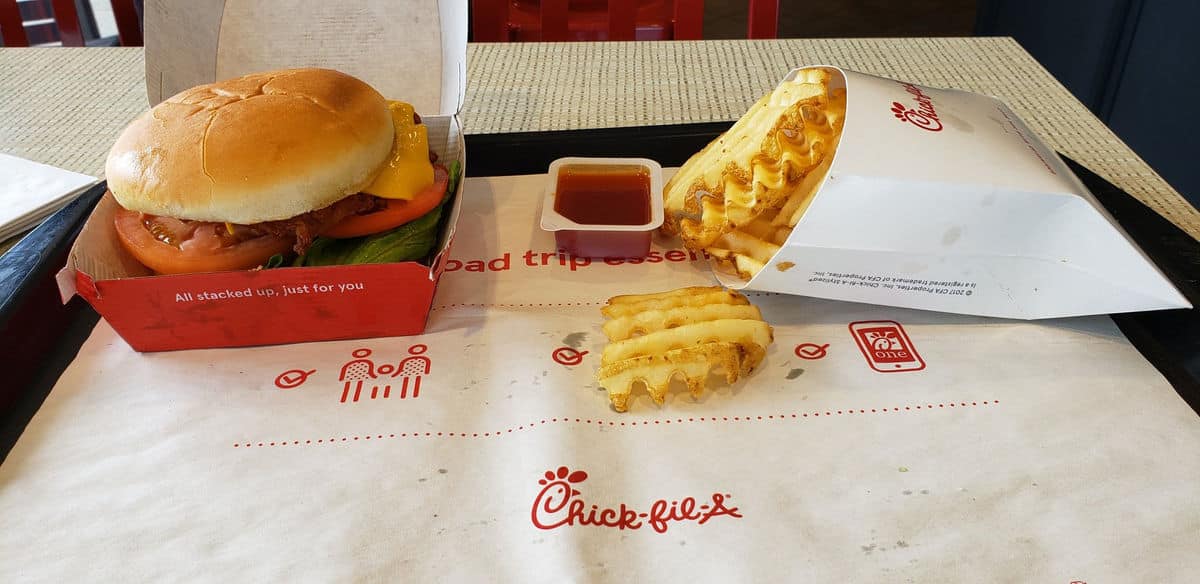 The cost of a Chick-fil-A #1 combo can vary based on several factors such as the type of sandwich and the location of the restaurant.
For example, the following are the prices for the #1 meal in Atlanta, Georgia:
---
---
Chick-fil-A Sandwich: $6
Chick-fil-A Deluxe: $6.90
Chick-fil-A Sandwich: $11.09
Chick-fil-A Deluxe Meal: $11.99
It's important to remember that prices may differ from location to location, so it's best to verify with your local Chick-fil-A for the most up-to-date pricing information.
Chick-Fil-A Number 1 Nutrition & Calories
The following table provides a detailed breakdown of the nutrition and calorie information for the Chick-fil-A's #1 combo meal (chicken sandwich, fries, and sweet tea).
This information can help you make informed choices about what to order when you visit Chick-fil-A, whether you are counting calories, monitoring your fat intake, or simply looking to make healthier food choices.
| Menu Item | Serving Size | Total Calories | Fat (total) | Protein | Carbs | Sodium | Sugar |
| --- | --- | --- | --- | --- | --- | --- | --- |
| Chick-fil-A Chicken Sandwich | 1 sandwich | 440 | 17g | 41g | 29g | 1400mg | 6g |
| Chick-fil-A Deluxe Sandwich | 1 sandwich | 550 | 22g | 44g | 32g | 1640mg | 7g |
| Chick-fil-A Waffle Potato Fries | 1 medium order | 420 | 24g | 45g | 5g | 240mg | 1g |
| Drink (Ice Tea Sweetened) | 1 medium cup | 120 | 0 | 0 | 31g | 10mg | 31g |
| #1 Combo (chicken sandwich) | – | 980 | 41g | 86g | 34g | 1650mg | 38g |
| #1 Combo (deluxe  sandwich) | – | 1090 | 46g | 89g | 37g | 1890mg | 39g |
Note: The nutritional information provided in this table is just a sample and may not accurately reflect the actual nutrient content of the #1 combo, as it depends on how the meal is configured.
Popularity and customer reviews:
Chick-fil-A's #1 combo has become one of the most popular menu items at the restaurant. People can't get enough of it and they are constantly talking about how delicious and tasty it is.
Here are a few tweets showing people's love for the #1.
These tweets show just how good the #1 is at Chick-fil-A. Whether you're in the mood for a quick bite or a filling meal, this menu item is sure to hit the spot.