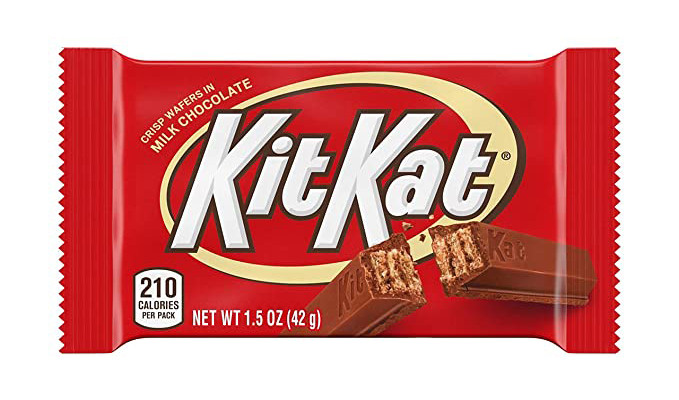 If you ended up here, I am sure you want to know if Kit Kats have peanuts in them?
I know there are some people who are allergic to peanuts may avoid eating Kit Kats because they are worried about having an allergic reaction, but we will be answering that question in this article.
We will take a close look at the ingredients of a Kit Kat bar and determine if they do contain nuts.
So, does this candy contain peanuts? Let's find out!
What are Kit Kats Made of? Do They Contain Nuts in Them or Not?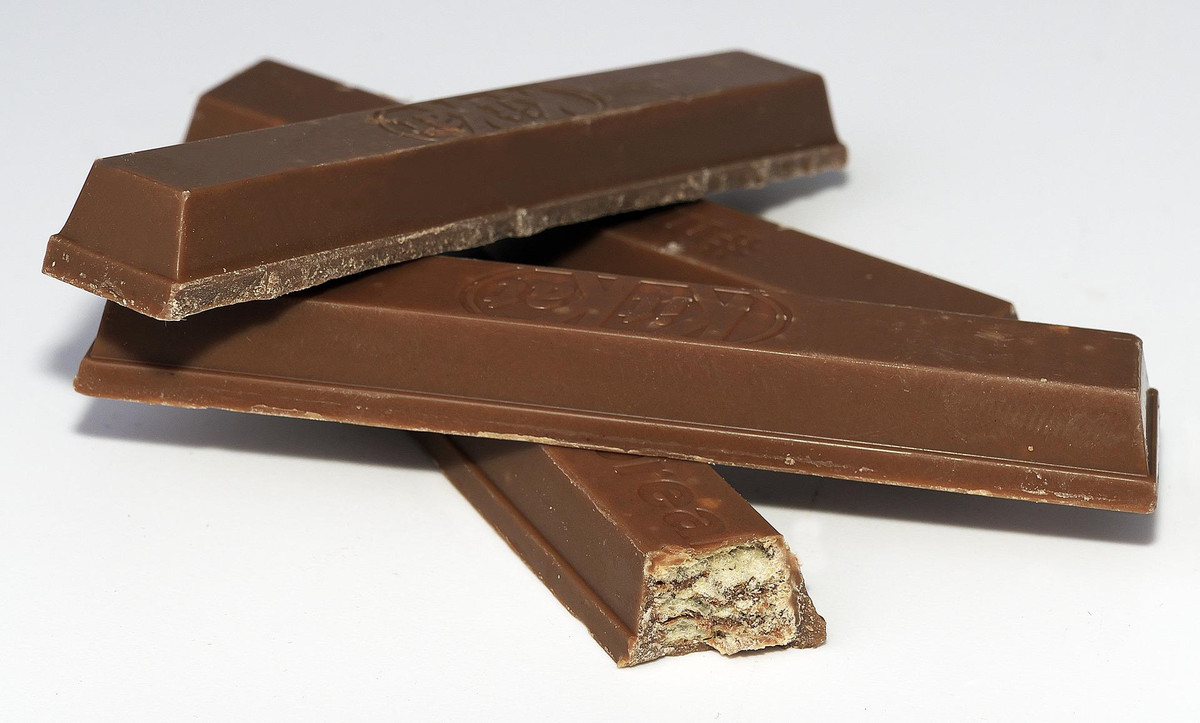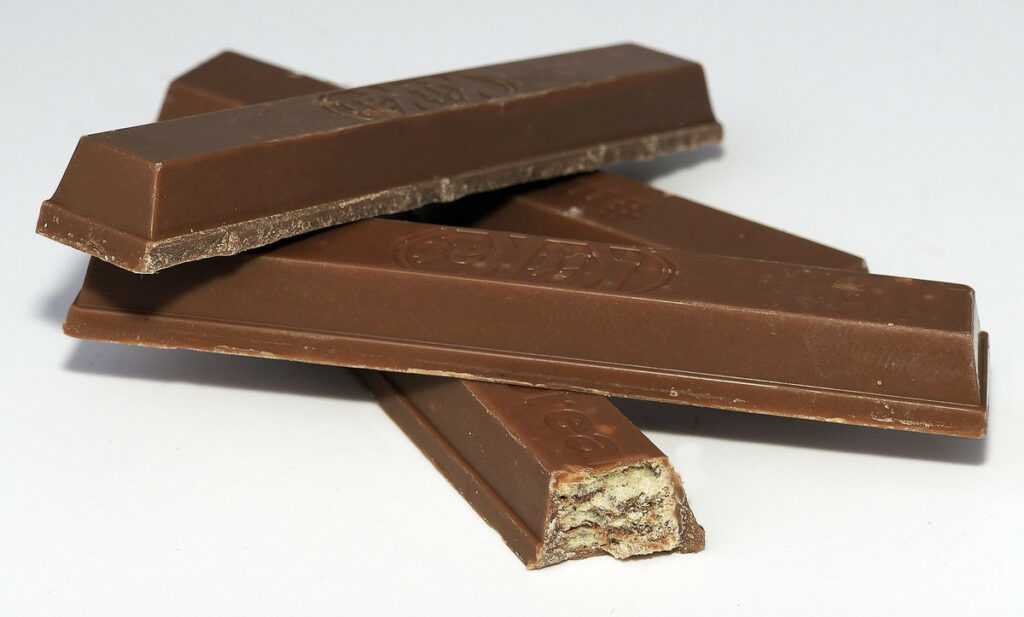 To first understand if there are any nuts/peanuts in a Kit Kat, we will take a look at the chocolate bar's ingredients.
If there are any nuts used, the ingredients are a surefire way to know.
KIT KAT Ingredients
Different ingredients are used to make a Kit Kat Bar, depending on where in the world you purchase it.
We will highlight the ingredients from Europe, United States & Canada.
Europe
Milk chocolate (66%) (sugar, cocoa butter, cocoa mass, dried whole milk, cocoa mass, lactose and proteins from whey, whey powder, emulsifier (sunflower lecithin), butterfat, flavouring), wheat flour, sugar, vegetable fat, cocoa mass, yeast, raising agent (sodium bicarbonate), salt, emulsifier (soya lecithin), flavourings.
United States
Hershey's Kit Kat Crisp Wafers in Chocolate contain sugar, wheat flour, cocoa butter, nonfat milk, chocolate, refined palm kernel oil, lactose (milk), milk fat, contains 2% or less of: soy lecithin, PGPR (emulsifier), yeast, artificial flavor, salt, and sodium bicarbonate.
Canada
Milk chocolate (sugar, milk ingredients, cocoa butter, cocoa mass, whey powder, lactose, soya lecithin, polyglycerol polyricinoleate, natural flavor), wheat flour, sugar, modified palm oil, cocoa, sodium bicarbonate, soya lecithin, yeast, natural flavor.
As you can see, there are no nuts or peanuts used in the ingredients of a Kit Kat Chocolate Bar.
Please Note: If you look on the packaging, you will see a warning on the label, which states:
Allergy Information: May Contain Nuts, Peanuts.
What does that mean if no nuts are used in the ingredients of the Kit Kat Bar? We take a deeper look at it below.
Do Kit Kat Chocolate Contain Nuts/Peanuts?
In Canada, tree nuts and peanuts are priority allergens, which means that Canadian labeling regulations require them to be declared in the ingredient list (if it's part of the product) or under a "May Contain" statement (if there is a chance for cross-contamination) on the label. If they are not listed, the product does not contain nuts.
What Does May Contain Nuts, Peanuts Mean on Candy Bars?
Do you have a severe nut allergy? If you look on the Kit Kat chocolate bar label, you will see "May Contain Nuts, Peanuts." But what does that actually mean?
The FDA defines "may contain" as:" A food allergen labeling statement that warns consumers that a food product was manufactured on shared equipment and may contain trace amounts of an allergen." So, even if a product doesn't have any nuts or peanuts listed as an ingredient, there's still a chance that it was contaminated during manufacturing.
A Quora post from 2016, gives us another look at why Kit Kat's have that warning label.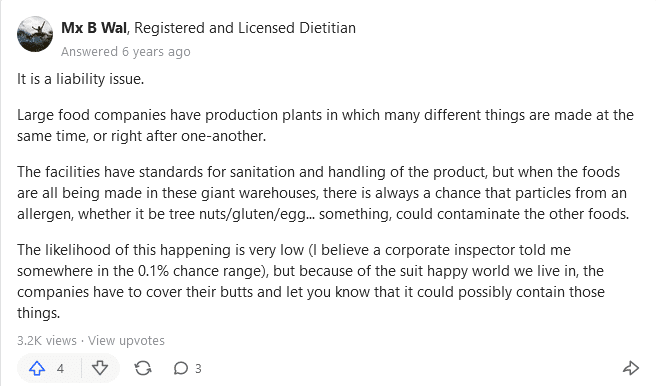 As you can see, most big companies have production plants in which many different things are made at the same time, and there is always a chance that particles from an allergen like nuts could contaminate other foods.
Wrapping it up
We've reached the end and as you can see, the answer to "Do Kit Kats Have Peanuts" is no. The ingredients in a Kit Kat chocolate bar do not list peanuts or nuts.
However, there is a warning label that states "May Contain Nuts, Peanuts." This means that there is a chance that the product was contaminated with nuts during manufacturing.
I hope you found this article helpful.
Do you have a severe nut allergy? What candy bars do you avoid because of the allergen warnings? Let me know in the comments below.