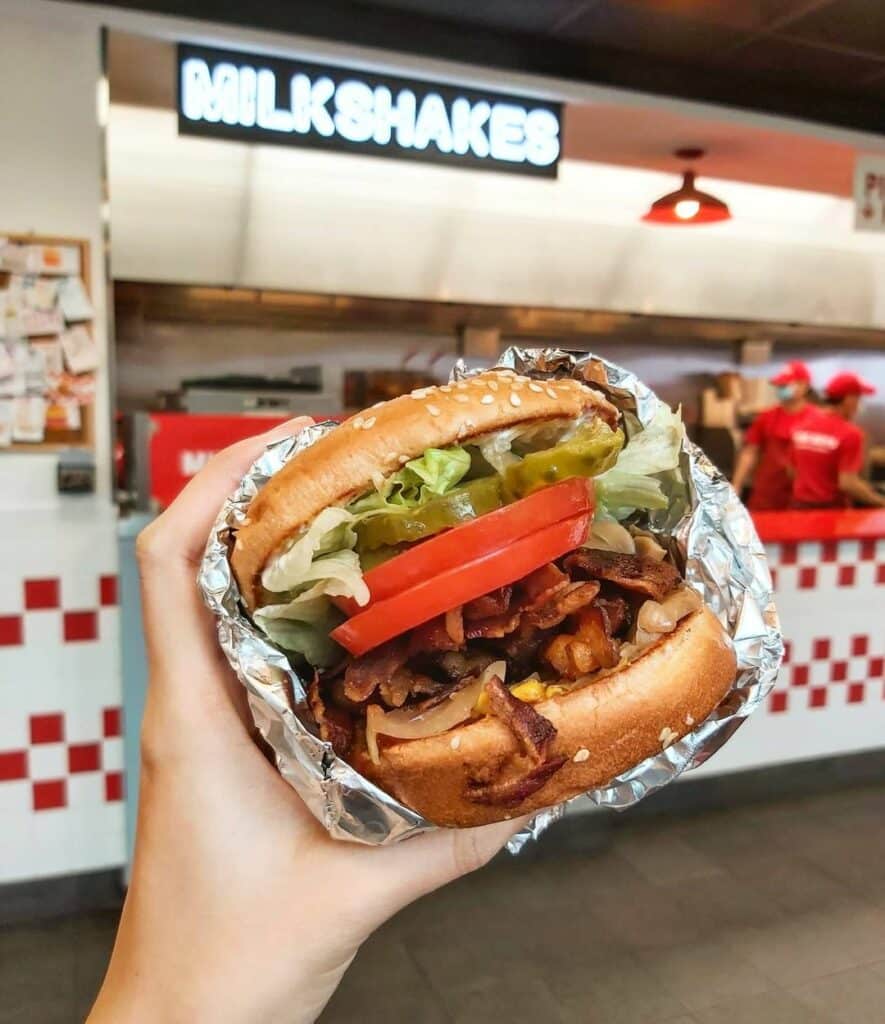 Are you getting ready to sink your teeth into the stuff of sandwich legends?
The Five Guys BLT is a sandwich that every bacon lover has to try at least once in their life!
In this article I'll show you why it's so popular, how many calories are in it, how much it costs and how social media can't seem to get enough of it.
So grab a napkin and let's dive into the world of the Five Guys BLT!
Write What is the 5 Guys BLT Sandwich?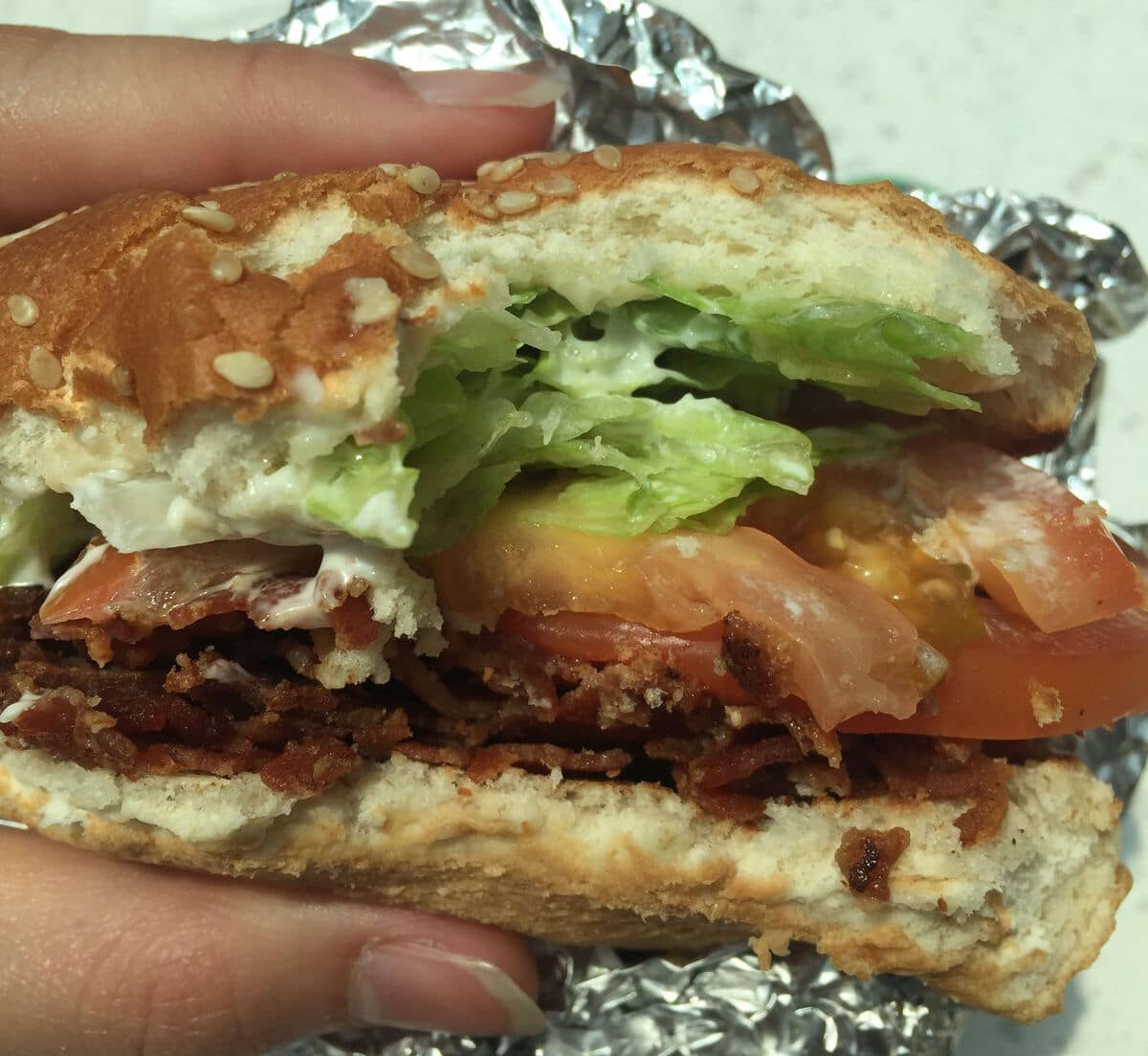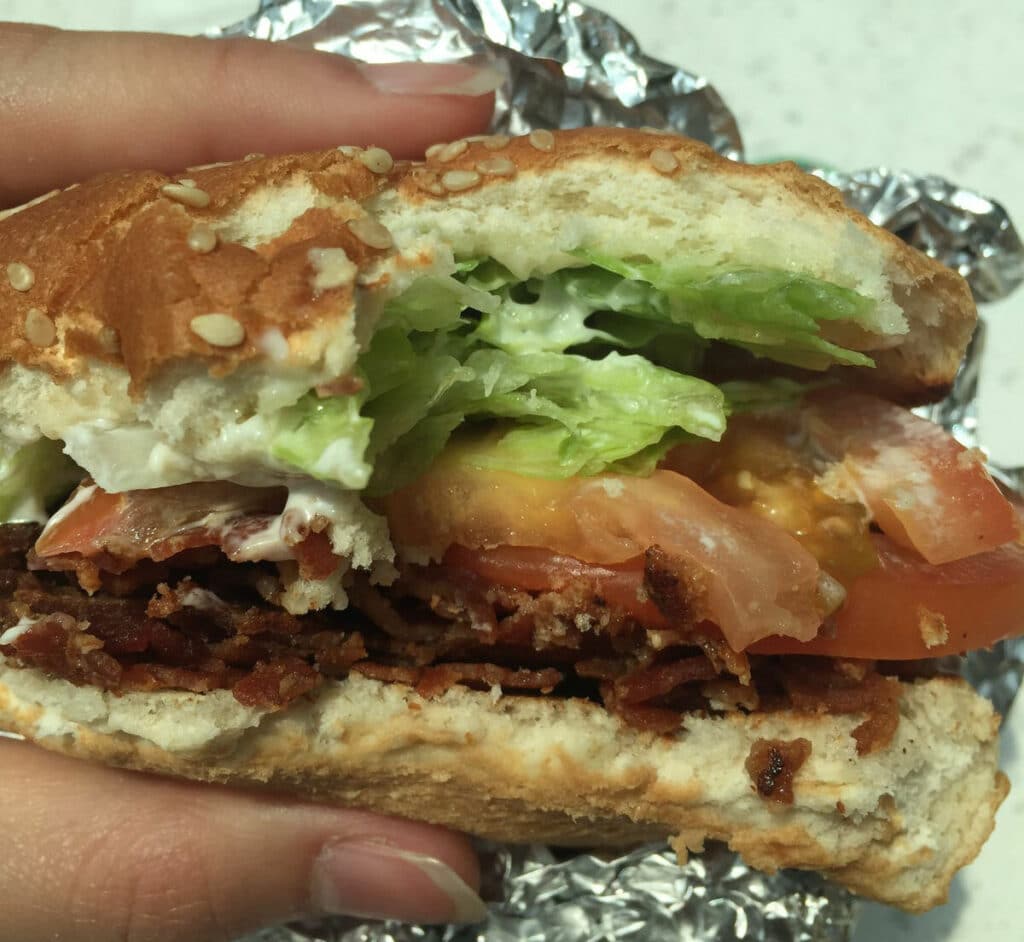 The BLT from Five Guys is the classic bacon, lettuce, and tomato sandwich, but crafted with Five Guys unique touch.
---
---
What Comes on a BLT From Five Guys?
Is it just a basic bacon, lettuce, and tomato sandwich? Far from it! The Five Guys BLT starts with the finest, expertly smoked apple-wood bacon as the main star.
In a 5 Guys Twitter post, the sandwich features six crispy bacon strips, two ripe tomato slices, a creamy spread of mayo, and fresh hand-torn lettuce.
The customization options are endless, as you can add as many toppings as you like, with cheese being a popular choice.
Now you know the details of the BLT sandwich, let's now take a look at how many calories this sandwich and see how indulgent it is.
How Many Calories are in a Five Guys BLT?
The exact calorie count of a Five Guys BLT sandwich can vary depending on the specific ingredients and toppings added.
However, on average, a standard BLT sandwich without any additional toppings or modifications can contain approximately 500-800 calories.
This high calorie count is due to the large amount of bacon, mayonnaise, and other high-calorie ingredients used in the sandwich.
If you want to keep it light, cut back on the mayo and don't add cheese.
What's The Price of the 5 Guys BLT Sandwich?
---
---
The cost of the Five Guys BLT sandwich may vary depending on the location. In order to determine the exact price, it's best to check with your nearest Five Guys restaurant.
But to give you an example, a recent check in Atlanta, Georgia showed that the price of the BLT sandwich was $9.23.
Remember, prices may vary in different regions and may be subject to change, so it is always best to check with the local restaurant for the most accurate and up-to-date information.
Social Media Reacts to the BLT Sandwich from 5 Guys
The BLT sandwich from Five Guys has been a popular item on the menu for years, and it's no surprise that it has received a lot of attention on social media.
On Twitter, people are constantly expressing their love for this the sandwich.


If you're dreaming about a Five Guys BLT, you're not alone! @mollyamccarthy lets you know that cravings for this sandwich are intense and totally real!
In addition to the tweets, there is also a popular Tik Tok video that showcases the size and contents of the Five Guys BLT sandwich.
The video shows the sandwich overflowing with crispy strips of bacon and fresh toppings, providing a visual representation of just how packed this sandwich really is.
If you haven't tried the Five Guys BLT as yet, you really need to be on it!
Wrapping it up
As you can see, the BLT sandwich from Five Guys has earned its place as a beloved menu item and a definite fan favorite.
From its expertly crafted ingredients, to its generous portions, it's no wonder that people are taking to social media to express their admiration for this classic sandwich.
Whether you're a bacon lover, or simply looking for a new meal to try, this BLT sandwich is definitely worth it.
So, why not visit your local Five Guys today and experience the magic for yourself!