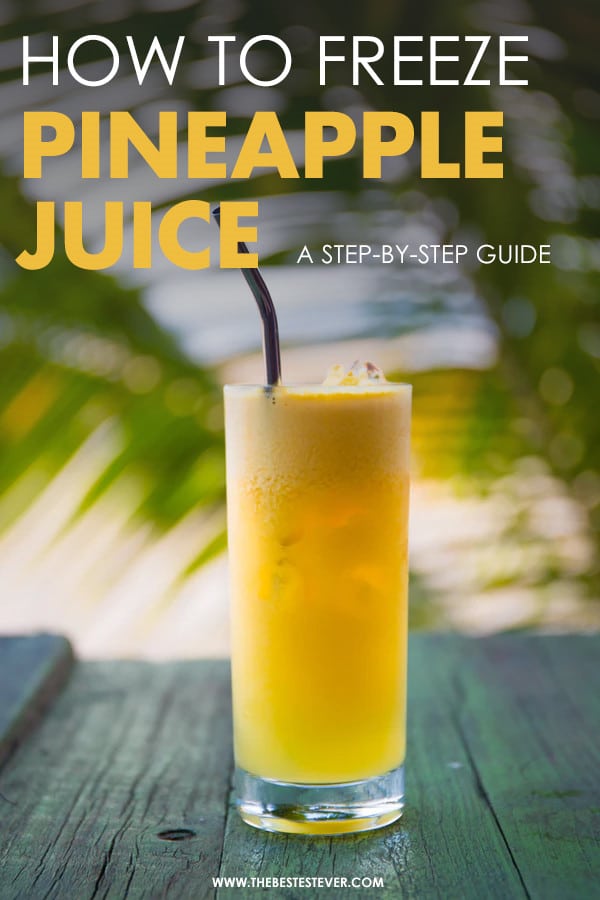 Is it possible to freeze pineapple juice?
We take a look at how to go about freezing this fruit juice, along with some information that can help you in the storage process.
Can You Freeze Pineapple Juice?
Yes, you can freeze both fresh and store bought pineapple juice without any issues.
Frozen pineapple juice holds up really well in the freezer, so if you bought bottles of the juice on sale and wanted to store them for a later time, you should have no problems.
This also works if you make fresh pineapple juice and wanted to freeze some to enjoy at some time in the future.
The great thing about frozen pineapple juice, is that you will always have some on hand when needed and it is a great addition if you are making frozen smoothies.
Related: Can You Freeze Orange Juice?
How to Freeze Pineapple Juice: A Step-by-Step Guide
The whole process of freezing pineapple juice is pretty simple. If you are planning on doing it, you can do it three different ways:
Freezing The Carton/Bottle
Freezing in a Container
Freezing in an Ice Tray
Option #1: Freezing a Carton
There isn't much to freeze in a carton/bottle of pineapple juice. All you have to do is place it in the freezer and that's it.
Option #2: Freezing Fresh Pineapple Juice
Making your own fresh pineapple juice is pretty amazing and highly recommended. If you made a big batch and wanted to have store it for later, you could always freeze it, to enjoy later.
Step 1: Juice the Pineapple
The first step requires making a fresh batch of pineapple juice.
Step 2: Pour in a Freezer Safe Container
Once you have the juice, you are going to transfer it to a freezer safe container or bottle and place in the freezer.
Option #3: Freezing as Ice Cubes
If you are big smoothie fan, you could always use the frozen pineapple juice as an ingredient in whatever you are making.
In an instant like this, is a good idea to freeze the pineapple juice in ice cube trays. You will be able to pop the serving you need at any given time.
Step 1: Pour Pineapple Juice in Ice Trays
Get yourself a couple of ice trays and fill them up with store bought pineapple juice or some that you made yourself.
Step 2: Place in the Freezer
The next step is to place your pineapple juice filled ice cubes in the freezer. Let them sit in the freezer for a couple of hours, until frozen solid.
Step 3: Transfer to a Freezer Safe Bag/Container
Once the ice cubes are ready, you can pop them out and transfer them to a freezer safe bag or container.
When it is time to make your smoothie, you will have access to individual servings when needed. You can also get a couple of pineapple juice ice cubes and let them melt in a glass if you want something to drink.
Related: How to Freeze Lemon Juice
How to Defrost Frozen Pineapple Juice
When it comes time to thawing out/defrosting your frozen pineapple juice, you can take the carton or container and leave it in the fridge overnight for it to fully defrost.
If you are in a rush, then you can always submerge a carton or container in a water bath, until the pineapple them bounce different juice is fully defrosted.
Please note that after it has thawed out, there might be some separation. It is always a good idea to shake up the carton/container so that the juice can be reconstituted.