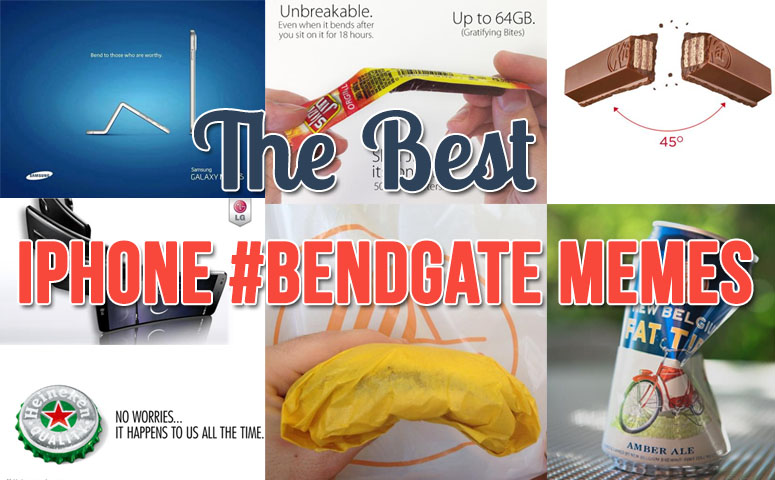 So the news is out that some users of the Iphone 6+ are complaining that the phone bends when placed in an pocket. This is not a good look for Apple as they pride themselves on impeccable design and this is a major boo boo.
As news of the bendable Iphone 6 started to hit the web, it was inevitable for a stream of memes to follow.
Below I present some of the best Iphone #bendgate memes that will either have you laughing tears or crying because your expensive investment could be next.
Samsung
https://twitter.com/played_well/status/515169445141295104
Samsung is by far Apples biggest competitor, but they went for the throat with this one.
Kit Kat
We don't bend, we #break.
#bendgate #iPhone6plus pic.twitter.com/uippCg4kCi

— KITKAT (@KITKAT) September 24, 2014
Slim Jim
https://twitter.com/SlimJim/status/514878984317054976/
Heineken
Dear Apple… #BendGate pic.twitter.com/XJ8zVEUog9

— Heineken NL (@Heineken_NL) September 25, 2014
Samsung Again
Curved. Not bent. #GALAXYNoteEdge pic.twitter.com/OTPIYlI07f

— Samsung Mobile (@SamsungMobile) September 25, 2014
Pringles
Bends rule! #bendgate #hyperbolicparabaloid pic.twitter.com/AlreYLQ6D1

— Pringles (@Pringles) September 25, 2014
Nokia
https://twitter.com/NokiaHomebase/status/515108380365836289
LG
Our phone doesn't bend, it flexes…on purpose. #bendgate pic.twitter.com/d1DudxDQgf

— LG USA Mobile (@LGUSAMobile) September 24, 2014
Whataburger
WARNING: Whataburger WILL bend if left in your pocket. #bendgate pic.twitter.com/wXcUpfVFoS

— Whataburger® (@Whataburger) September 24, 2014
#BendGate not just a bigger display. a bendable display.^_^ pic.twitter.com/6kOjzkGELL

— Omar Mohsen (@iOmarMohsen) September 24, 2014
Apple introduces iRoller #apple #bendgate #iphone6 #funny pic.twitter.com/W8tHiYHPUy

— ChillNite.com (@ChillNite) September 24, 2014
Do not try to bend the iPhone 6. That's impossible. Just know the truth. There is no iPhone 6. #bendgate #bendghazi pic.twitter.com/PSEAeU9MJw

— Keith Aldrich (@keithaldrich) September 24, 2014
Finally got my hands on the British version of the IPhone6 but I shouldn't have left it in my back pocket. #bendgate pic.twitter.com/j3Y5eu5OqC

— Shanna May 🌐 (@ItsShannaMay) September 25, 2014
Bend it like Beckham! #BendGate #iPhone6 @DavidBeckhamWeb pic.twitter.com/PHYzdEBYlQ

— Bobbe Nordfeldt (@BobbeNordfeldt) September 24, 2014
#bendgate LEAKED: new iPhone Dali Edition! pic.twitter.com/0aOi9bteOX

— Jonas Daehnert (@PhoneDesigner) September 24, 2014
https://twitter.com/Trendinfluencer/status/514700441066954752