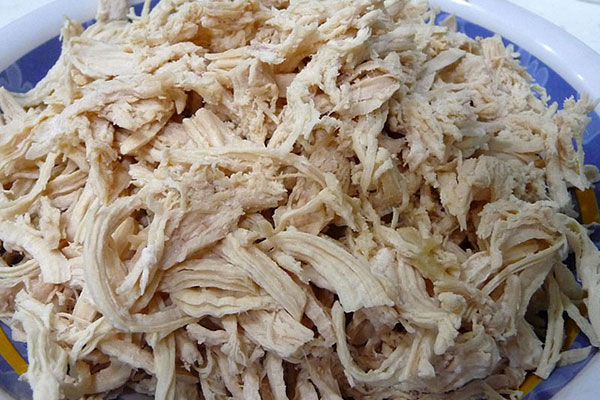 There are so many different recipes out there that require shredded chicken. The good thing is that multiple ways exist to make the task of shredding a chicken that much easier.
Shred Chicken in a Mixer
If you have a mixer at home, this would be a pretty simple and easy method to get your shredded chicken done. All you need to do is place the poached chicken breasts in the mixer bowl. After that, all you need to do is put meat in mixer with paddle attach and pulsate. ((Ed Buchanan. (2009, August 24). "Best Method for Shredding Chicken". Cheftalk.com. Retrieved 2012-04-11))This should cut your shredding time significantly.
Shred Chicken With a Fork
This is by far the simplest method to shred chicken out there. You can essentially use 2 forks and pull the chicken breasts until the start to shred. You keep doing this until you get your desired results.
Disadvantage – When pulling chicken with forks, the one negative is that it can take a long time, especially if you have a large amount of chicken to do.
Shred Chicken With Bear Paw Meat Pullers
Before doing this post, I honestly have never heard about bear paw meat pullers. These paws look pretty awesome and they also look like they will do some pretty good work on all those tender, juicy and plump chicken breasts.
How do They Work? – Bear Paw meat pullers are pretty simple devices to use. All you do is use one paw to hold the food down, while the other one can be used to shred the meat. They are really effective and also pretty cool. They are perfect for use on other meats such as pork and beef.
Image Source
Suanie. "Filipino-ish Chicken Macaroni Salad – shredded chicken breast" 4 September 2001. Online image. Flikr.com. 11 April 2012.