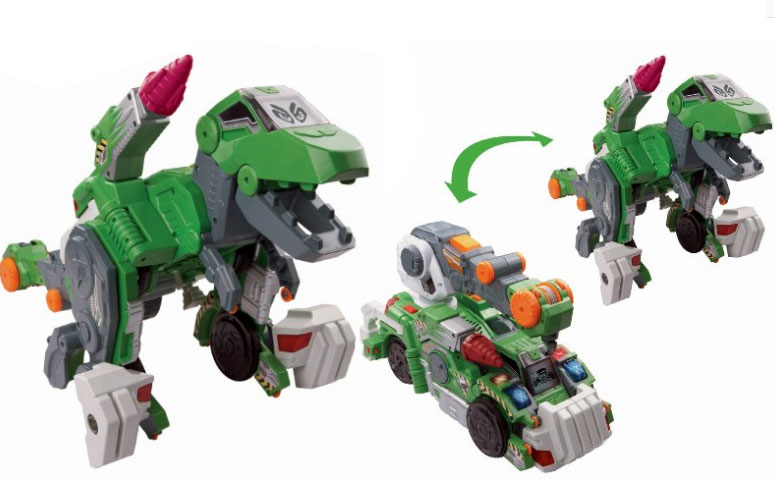 You know the right dinosaur toy can prove to be an awesome buy, especially if you have a little boy who absolutely loves everything about them.
Even though there are tons of options of options available, one of the most popular has got to be Vtech Swith and Go Jagger the T-Rex. This is one of the hottest toys around and if you want to make your kid smile, then you need to seriously consider this toy.
What Does This Toy Do?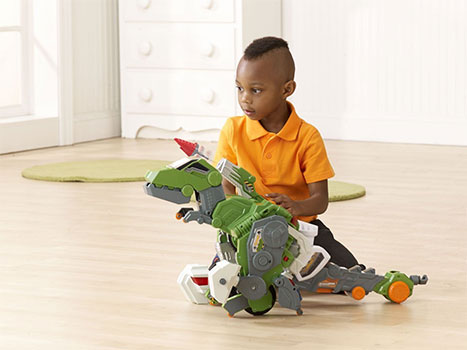 I think the big question is what it doesn't do. There is a reason why this dino toy is so popular and that is because it seems like it does it all. Just take a look at some of the features below that makes it stand out from all the other options that are available.
Stands 16″ tall
Transforms from a dinosaur to a crane
Responds to voice commands
Moves on its own
Comes with built in LCD screen
Plays different sound effects and phrases
Delivers hours of fun
Transforms from construction truck to T-Rex Dinosaur – Kids will enjoy this, as they get the benefit of having two toys in one. You can move around with the construction truck that has the built in crane and when it transforms, you have Jagger the T-Rex that does just about everything.
Voice Activated – You can speak up to 20 voice modes in both dinosaur or crane mode and it will respond to what you tell it to do. If that is not cool, then I don't know what else to say.
Comes With a Specialized LCD Screen – The built in LCD screen adds another dimension to the toy, as you will be able to display eyes when in dino mode and then driver animations when it is in crane mode.
Tons of sound – You will also get access to a toy that deliver 90+ sounds and phrases. You will hear everything and even the might T-Rex roar.
Just looking at the features above, you can see that the Switch and Go Dino: Jagger is going to be a huge hit with whoever gets this is going to be one lucky boy.
Is It Worth It?
With all those crazy features, you might think that this type will cost an arm and a leg. This is far from the food, as you can generally pick it up for around $69. This is actually a pretty good deal, when you take a look at all the different features that it offers. If you can think of this type from a child's point of view, wouldn't you go crazy getting something like this? It does so much, can transform into a crane, talks, walk and responds to a variety of voice commands, come on, which kid would not love this?
So trust me, you will not regret this purchase as they will have hours of fun with it, it is not overly expensive and just think of the squeals of joy when they see this awesome toy. It is definitely worth it, so stopping thinking and researching, buy yours today!
https://www.youtube.com/watch?v=8G5Bgz5e2BQ