Wouldn't it be nice to get a shoe that delivers everything you are looking for? Extremely comfortable, lightweight, has great support, stylish and a joy to dance in? Well if you are looking for Jazzercise shoes, a good brand to consider is Ryka.
For those of you who have no idea what to get, but know that you need to invest in really good footwear, blow I will highlight a couple sneakers that will be the perfect option to dance around in.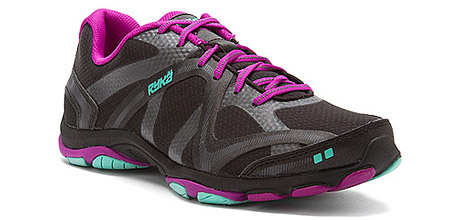 I would not say that the Influence was created specifically for Jazzercise, but boy is this shoe perfect for the workout. The Influence delivers really good cushioning and comfort, something you will want when jumping, twisting, turning or moving from side to side. While not the best looking one on the list, it works and that's what really matters. It is still a good buy and you can't go wrong if you choose it.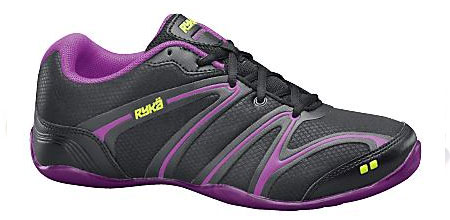 If you want studio footwear that is designed specifically for dance aerobics, then the Rhythmic is a pretty good sneaker to have. The pivot points on the soles of the shoe makes it great to move around in and pulling off moves is pretty easy as well. These shoes are also very stylish and they are a great look when paired with the right outfit.
 
There are not many high top shoes to choose from, but if you are suffering from an ankle injury or just want more support, then the Tenacity is by far the best option. Support is what this sneaker delivers and you can do lateral moves and everything else with ease or fear of injuring yourself. It also helps that they are pretty comfortable to wear and look pretty stylish.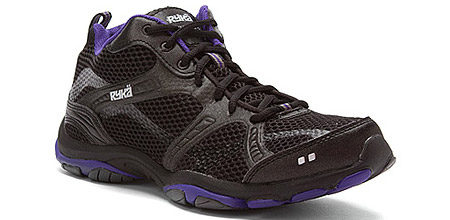 If you want a great, lightweight shoe for studio/dance workouts, then the Enhance 2 is another good shoe option that is extremely popular. The sneaker is a joy to wear and you will not have to worry about the shoe failing when doing lateral moves, as it has excellent support, thanks to its mid-top design. The feet will definitely be secure and comfortable when wearing this model.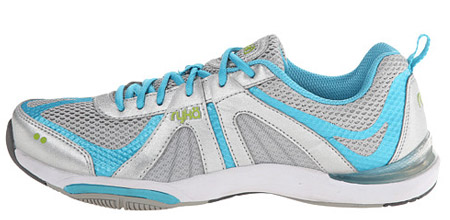 The Moxie is one of the newer dance sneaker options from Ryka and it is a pretty ok choice, not as good as some of the others on the list. It features a pivot point for easy turns, is pretty lightweight and has excellent cushioning. A really cool shoe where you can't go wrong dancing in them.
5 Reasons Why Ryka Shoes for Jazzercise are Great
If you look on my list of the best dance shoes for Jazzercise (I linked to it at the top), you will see that there are many different sneaker options to choose from. Ryka features prominently on the list, simply because they are high quality footwear and they are pretty good trainers to dance in. Below I will highlight 5 other reasons why these are such a good buy.
Designed for Women – When a company has a main focus and they take pride in designing outstanding footwear for women, then you know that this is a brand you need to take seriously. For the past 25 years, Ryka has been designing athletic footwear that a woman can appreciate, simply because they know that they were foremost when the creation process for these shoes started. What that translates to are sneakers that will deliver the exact performance that a woman desires. For Jazzercise, this is pretty good as you will be getting a sneaker that….
Comfort – if you're to ask anybody in the class who has a pair of Ryka shoes, one of the things that they're going to say that they love about them, is the fact that they are extremely comfortable footwear. Remember you are going to be dancing throughout the entire class and as such, you are going to want something that is capable of delivering it.
Lightweight – There is a good selection of aerobic sneakers and cross trainers that are excellent choices to dance in. What makes these trainers stand out from everything else is the fact that they are extremely lightweight and will not have your feet feeling like cement blocks. When you are moving around and dancing, it is very easy to see why the lighter the sneaker, the better.
Affordable – When you compare Ryka to something like Nike footwear, you will be surprised to see how much cheaper it is to its counterparts. You are still getting high performing quality footwear, without having to shell out $100. This is great for those of you who are looking at getting a nice trainers to dance in for Jazzercise, without having to break the bank to do it.