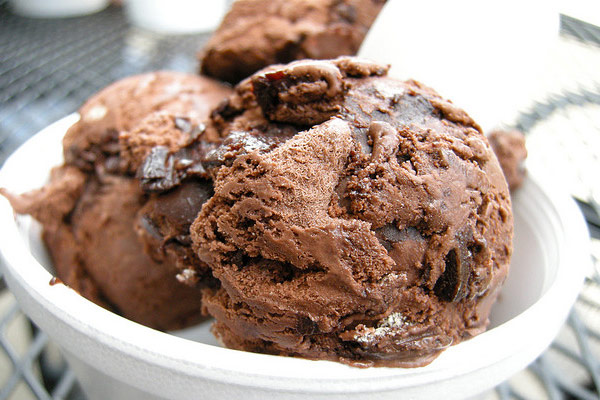 There is nothing more challenging and annoying than trying to scoop out ice cream that is rock solid hard. The amount of bent spoons that I have gone through is countless. Ideally, the best way to scoop out ice cream is with, well……an ice cream scoop. These nifty little utensils will deliver perfect scoops of ice cream to whatever bowl or cone needs it. They will also make it so much easier for this icy treat to be served.
Let it be known! That not all ice cream scoops are created equal. Below, I will list the 5 best on the market right now.
1. OXO Good Grips Solid Stainless Steel Ice Cream Scoop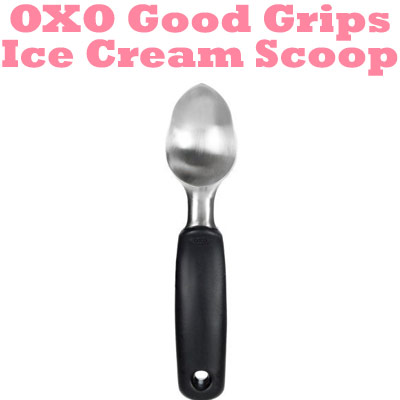 "It gets the job done!!!!!!!!!" This is the sentiment you will hear time and time again with the OXO Good Grips Ice Cream Scoop. This is a heavy duty, strong, well made and solid product. It will dig into ice cream and scoop without breaking apart. This is a product that will be in your kitchen for a very long time and I can guarantee that even though it is a bit on the pricey side, you will definitely be getting your money's worth.
Like: Strong, goes through ice cream easily, stainless steel, dishwasher safe
Dislike: A Bit pricey $$$$$$$$
2. Norpro Ice Cream Scoop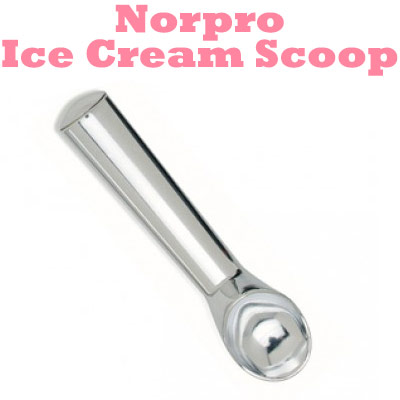 Want an ice cream scoop that has performance as well as a really low price? Well if that sounds right up your alley, then check out the scoop by Norpro. The Norpro scoop attacks ice cream and makes scooping so easy. The trick that this scoop uses is that it is not only sturdy, but also features defrosting liquid in the hand, that makes scooping effortless. If cared properly, you will realize that this will be one of the last ice cream scoops that you will be buying in a while.
Like: Does the job easily, features defrosting liquid in handle, cheap!
Dislike: Not dishwasher safe
3. Zeroll Ice Cream Scoop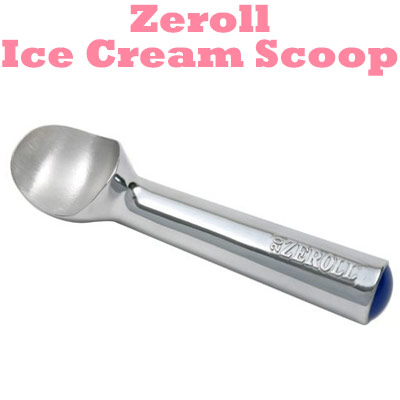 Another highly rated ice cream scoop would be the offering from Zeroll. This ice cream scoop is pretty awesome, not because of how easy it makes scooping ice cream, but with the way that it is done. In the handle, there is safe defrosting liquid that warms up when a hand is placed on it. This in-turn heats up the scoop and like magic, even the toughest ice cream just rolls up in it. Great buy, especially if you are not a fan of fighting to scoop out that frozen piece of heaven.
Like: Goes through ice cream easily, strong, functional
Dislike: Not dishwasher safe, pricey (but worth it)
4. Rösle Ice Cream Scoop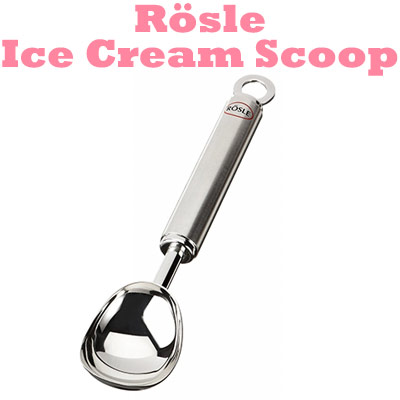 I must admit, the Rösle Ice Cream Scoop is the best looking one in this list. It has a really nice design and looks absolutely amazing. However, do not let looks fool you. Although really thin, the Rösle is actually very good at handling ice cream. It has great edges, which make it dive right into the hardest of ice creams. Aside from that, this scoop also produces beautiful spheres of ice cream, which are almost perfectly round. If you are one for design and functionality, then this one certainly fits the bill.
Like: Beautifully designed, thin, gets the job done
Dislike: expensive
5. Zyliss Ice Cream Scoop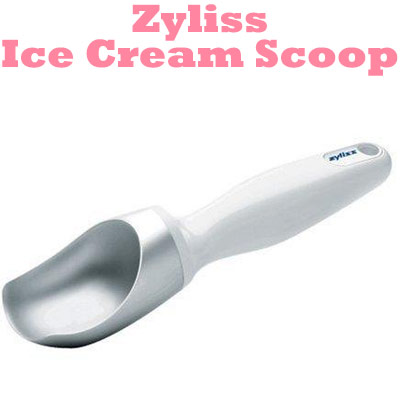 A lot of people give the Zyliss ice cream scoop high ratings, as it is pretty effective when it comes to scooping. The design is solid and it is not flimsy. It is able to go through the toughest ice cream very easily and the ball shapes created are very pleasing. It is not overly expensive, so it is a good buy. The only downside to this scoop is that it is not dishwasher safe and some people have indicated that if not cleaned properly, there will be some amount of corrosion that will develop over time.
Like: Sturdy design, good at scooping, makes nice looking rounded scoops, cheap
Dislike: Not dishwasher safe, corrosion can occur over time