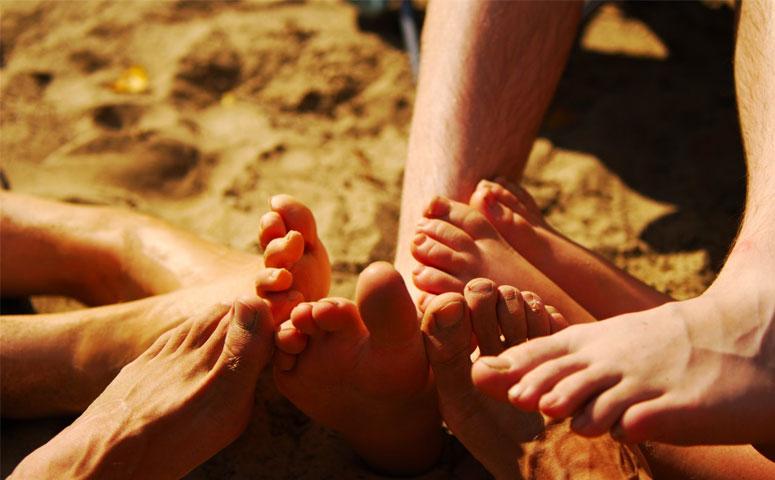 One of our most popular articles in this section highlights and breaks down the some of the must have and best shoes for Zumba.  On that list we take a look at all the top-rated sneakers to buy and it is a really comprehensive guide to go through. While that list works for just about everyone, what about the segment of the population suffer from flat feet? If you are flat footed and want to find a nice pair of shoes to wear to class, then continue reading!
You Arch Is the Culprit in Flat Feet
If you take a look at most peoples feet, you will notice that they have a little arch that works like a shock absorber. If you are doing anything with your feet from standing, running, walking, jumping or dancing, that arch ensures that there is not a lot of pressure reaching the foot.
Not everyone has a perfect arch and some people will have one that is non-existent. In this case, you will find that these people will have what is known as "flat feet". When a person is flat footed, the foot is unable to give the necessary support and because of that, you will find that there is more pressure on the feet. You will often find that people, who have no arch support, will generally suffer from foot pain or other issues.
What to Look for When Picking a Shoe to Dance in?
Gone are the days when a flat footed person had to suffer, as they were unable to find a sneaker that would be able to support their foot design. Now, you can easily find thousands of athletic trainers that a flat footed person can wear and feel confident that it will be able to deliver the necessary support.
When you are thinking about doing Zumba and you have that condition then you are definitely going to want to go with a dance sneaker that will deliver the right amount of shock absorption, as well as stability. Remember, you are going to be doing a lot of dancing and as such, you are going to ensure that the support and stability is there, especially since you are going to be moving around so much; sometimes doing sharp or lateral moves. You will also want to have really good shock absorption, as you don't want to deal with aches and pains after the class. Finally, if you choose the wrong shoe, you can also increase your possibility of injury and that is definitely something you want to avoid.
Have Flat Feet and Plan on Doing Zumba?
If you are planning on doing Zumba and have feet that are flat, it really should not be a problem trying to find shoes that you can wear for this dance aerobics class. You can check out our recommended shoes specifically for people who suffer from this condition, as we have done all the research and realized these will work perfectly for the class. If you are going to be looking for yourself, then the first thing you are going to do is try and find an athletic sneakers that does not have as much arch support. Once you find that, then you need to test it out to see if it is a good fit to dance in. Typically, you can either try and get sneakers designed for dance or cross trainers. The design of these shoes make them perfect for this dance fitness class as you will be able to move around easily in them, as well as getting the support that you need. If you find a trainer that works with your condition, as well as being lightweight, flexible and comfortable, then you will be ready to take on your intense Latin dance class in no time.