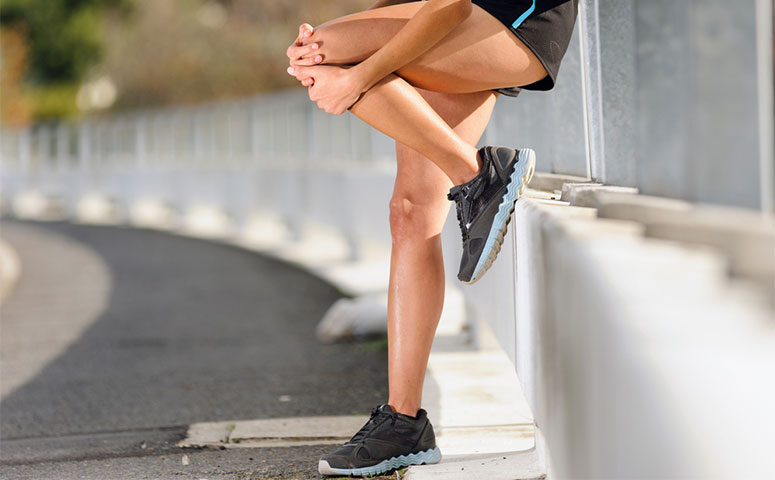 Zumba and bad knees sounds like a recipe for disaster, doesn't it? Well it really does not have to go that way, especially if you ended up on this page. The fact that you are looking for really good sneakers, that will not irritate or make your bad knees worse, then you are already ahead of the game.
The general consensus when it comes to dance trainers for Zumba, is that you will be able to use any type of athletic footwear, once they have specific features. While this will work for most people, if you suffer from bad knees, then you definitely need to reexamine and be extra careful in what you choose. Remember, dancing/dance aerobics class takes a toll not only on your feet, but also your whole body, including your knees. If you are looking for good Zumba shoe that are designed for your condition, then you are definitely going to want to go with something that has excellent cushioning and support.
What to Look For?
When choosing shoes for Zumba class, it is a pretty good idea that you go for an athletic sneaker that has great cushioning, support and stability. You will be doing a lot of dancing and you have to really consider your knees and the best way you are going to protect them while you dance. It would be best advised to go with dance sneakers or cross trainers as they are designed to handle these high impact activities. They are a good investment and they are really all you will need for any dance aerobics class you will be taking.
Cushioning
Remember you are going to be dancing in your Zumba class non-stop for about an hour. That can be a lot of pressure, especially if you have pains in your knees or other areas. If you have shoes that are comfortable and have excellent cushioning, then they should be able to reduce or eliminate some of the pressure and pain you might feel. When you wear uncomfortable sneakers, you can be sure that you are going to be in pain and this can even affect your body negatively. The more comfortable a trainer is, is the better off you will be in the long run.
Support
If you can picture yourself dancing, then you will realize that you are going to be doing a lot of quick movements. In Zumba, your feet are going to be all over the place and if you have a bum knoee, then you are going to learn why support is so important. If the feet are not secured properly, one slight move could cause a big impact on not only your feet, but also your legs and other parts. A good sneaker will fit properly on the feet and will give you maximum protection.
Stability
A stable shoe is also very important as it provides support for your lower body, especially if you don't want to aggravate it. When a shoe is stable, you will be flat on the ground and there will be no worries of you falling over or doing movements that are not natural to the feet. If you have worn an unstable sneaker, you will realize that the feet are all over the place and you can't really get proper traction. Once again, when thrown into an intense activity such as Zumba, the unstable shoe will do way more harm than good.
Shoe Brands to Check Out
Nike– Nike has a great selection of trainers that are not only good to dance in and deliver the support you need, but they are also multi-functional. Most shoes from Nike are cross trainers, so you know they are designed to handle high impact sports. The company prides itself on the performance, so you are definitely going to be getting some high quality shoes. If you want to see a list of great Nike shoe options, check out the list here.
New Balance – You can see the trademark NB anywhere and if you have foot or other problems and want to do Zumba, then you should really consider the offering from this company. Their main thing is that their sneakers will deliver great performance and excellent cushioning. This is something you should definitely look into, especially if you are not looking at injuring yourself. A list of New Balance Zumba sneakers are available on the linked page.
Ryka – I really like the Ryka line of dance sneakers, as they are not only good for dance fitness classes, but they are known to be extremely comfortable and supportive, something that you are going to need, especially if you need to protect your knees. It might also help that these shoes are a lot cheaper than the other brands above. You can take a look at the best Ryka Dance Aerobic trainers on the linked page.
Consider Gel Inserts
Even if you get some nice comfortable shoes that will provide the cushioning and support that you need for your lower part of your body, you can add an extra layer of protection by putting in some gel inserts/insoles inside whatever you are wearing. These inserts, will be able to provide an added level of comfort and they will also be able to absorb the shock that the knee may experience when dancing in a class such as Zumba. There are many different brands and options out there, but you can't go wrong with Dr Scholes. Dr Scholes makes some of the best gel inserts around and while dancing with them in your shoe, you will realize that they added an extra layer of cushioning. This is a really good investment and you will be amazed that an extra layer of support can go a long way.